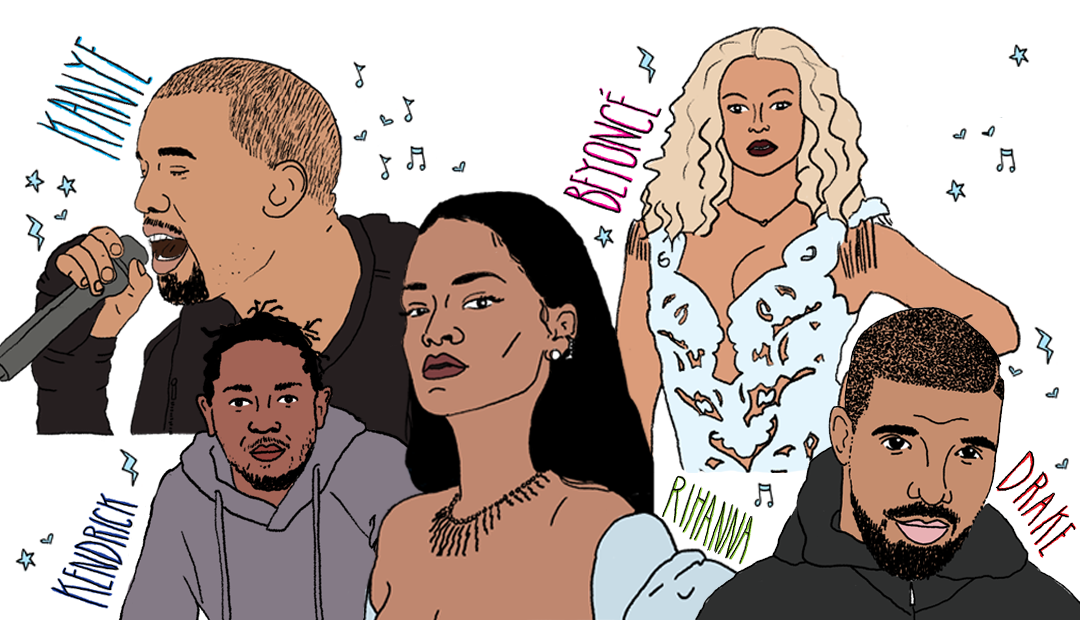 The Long Play: The Death and Resurrection of the Pop Album
For the past decade, the usual cadre of music industry prognosticators—critics, label chiefs, technologists—have been predicting that the album format would go the way of the pocket calculator. The digital music services' retail model, where songs can be purchased a la carte, put emphasis on individual tracks, while the rise of streaming services such as Spotify ensured that future music fans would discover music via algorithmically engineered, mood-based playlists based on weather patterns, the time of day, or perhaps the region, varietal, and vintage of whatever wine they're sipping on.
This was going to be awesome. Consumers would not only get to listen only to what they wanted—foregoing the meddling non-single tracks that frequently pad out pop albums—but they wouldn't even have to decide what they wanted. Music would be more than a mere cultural/artistic artifact and serve a greater utilitarian good as we all schlepped towards the great tomorrow.
This was also going to be a boon for artists. Creating an album is hard work, and counter-intuitive to our test/learn/iterate millennial mindset. In the new world, creators would release music as they made it—probably sometime between a late brunch and an early tea time—and distribute it directly to their fans, thus satisfying the needs of their tech masters with a steady stream of content for both Facebook's feed and Youtube's anarchic sea of audio. There are even those who've
advised artists to stop releasing albums altogether.
But something funny happened on our way to this new utopia: The album refused to die. Sure, artists like Taylor Swift and Justin Beiber continued to exemplify the traditional, singles-oriented methodology, but there also emerged a new path: releasing thematically cohesive, aesthetically ambitious albums that were a callback to the the long-players of bygones eras, but are distributed in a way that plays into the strengths of the digital marketplace.
This year, pop music's own rapping, purring super friends, Drake, Rihanna, Kanye, Chance, and Beyonce, all released major "statement" albums—cohesive, oftentimes challenging bodies of work—that have not only succeeded commercially but have also set the hearts of critics, fans, and general well-wishers aflutter. Though these artists still occasionally release proper "singles," many of the top tracks on streaming services are their album tracks, and their primary focus is creating bold bodies of work. Collectively, these releases demonstrate that the album format is not only alive, but more viable than it's been in years, and for reasons that no one could have predicted.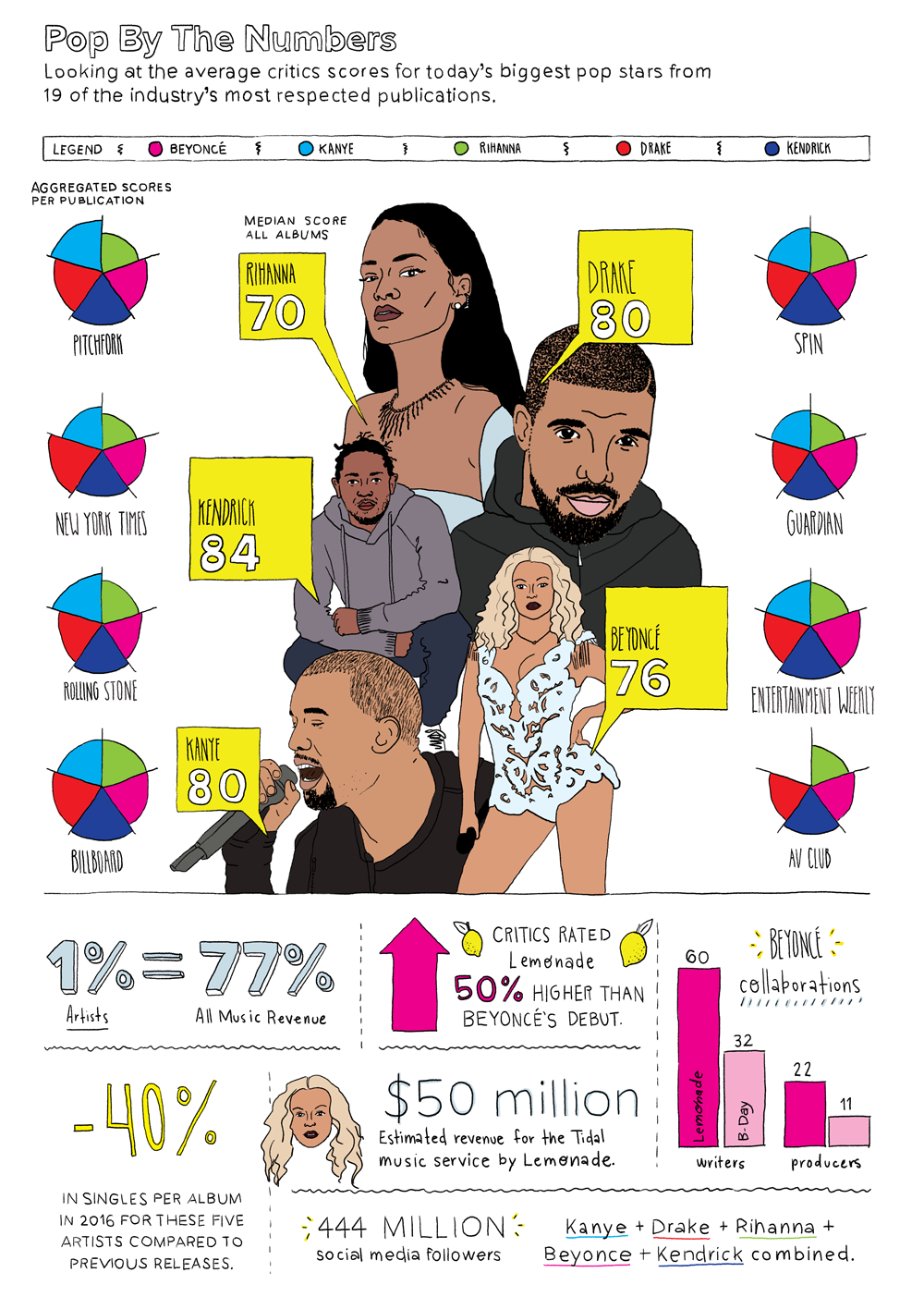 A number of factors have contributed to the reemergence of the album format, but one of the most important is the consolidation of pop music. For the week of June 18th, Drake alone had four songs in top 50 Billboard's songs chart, and only one of these, "One Dance," was a traditional single. The charts for individual streaming services are even more extreme. As of June 12th, 2016, eight of the top 10 songs on Apple Music belonged to Drake, and there was a grand total of 18 artists in the service's top 50. The idea that streaming music would engender the long tail model—with the democratization of digital distribution and consumption providing the death knell to pop's Illuminati—was grossly overstated. In 2013, the last year this data was available,
the top 1% of the artists accounted for 77% of the profits.
Turns out that when offered unlimited access to the entire corpus of recorded music, we really just want to listen to that new Kanye jam. This, of course, has further emboldened Kanye. For him, and artists like him, there's no need for gatekeepers, or even the traditional media apparatus. Collectively, Kanye, Beyonce, Drake, Kendrick, and Rihanna have 444 million followers on social media. If these fans decided to band together to create their own Popland, they'd be the third largest nation in the world (and probably the most fun, though also definitely the most dysfunctional).
Another key factor is the emergence of the surprise album as the dominant release strategy for pop's elite. In the past year alone, David Bowie, Chance the Rapper, Beyoncé, Kanye West, Kendrick Lamar, James Blake, Rihanna, and Radiohead have all issued albums with little to no warning. Of the top 50 tracks in Apple Music, 36 of those came from albums that had non-traditional release strategies.
For our ancestors living in the year 2006, the surprise release would've been unthinkable (it'd be like trying to imagine leaders who didn't obsessively tweet). In those days, the more diffuse distribution channels ensured that keeping a major album release secret would've been nearly impossible, and the success of a given album depended on the marketing apparatus behind it, the infrastructure provided by the radio, press, and more traditional, consumer-facing marketing. These are the institutional equivalents of the flip-phone: The basic services they provide still exist, but they've been transformed to the point where they are indistinguishable from their previous incarnations. Add to this social media users' dwindling attention spans, and the ease of release that the digital music service's offer, and it's clear to see why this has been the default strategy for superstars.
A lot has been written about what all the above means for the business of music, for the artists who create these albums, the labels who distribute them, and the services that sell them, but very little has been offered on what this means for the music that these artists create. As a vessel for the music, the album format has its own requirements, and a model that emphasizes the sudden appearance of an album, sometimes sans singles, puts even more pressure on this format.
Artists are adapting to this new reality, and this is a good thing. All of the artists mentioned above—Rihanna, Beyonce, Kendrick Lamar, Kanye West and Drake—are responding to these market forces, as well as perhaps their own internal muse, and releasing albums that are more holistic, and frequently more sonically adventurous and thematically complex. If anyone needed proof that the Death of the Album narrative is itself dead, he or she need only look at how the above five artists have been rewarded—both commercially and critically—by embracing full length albums.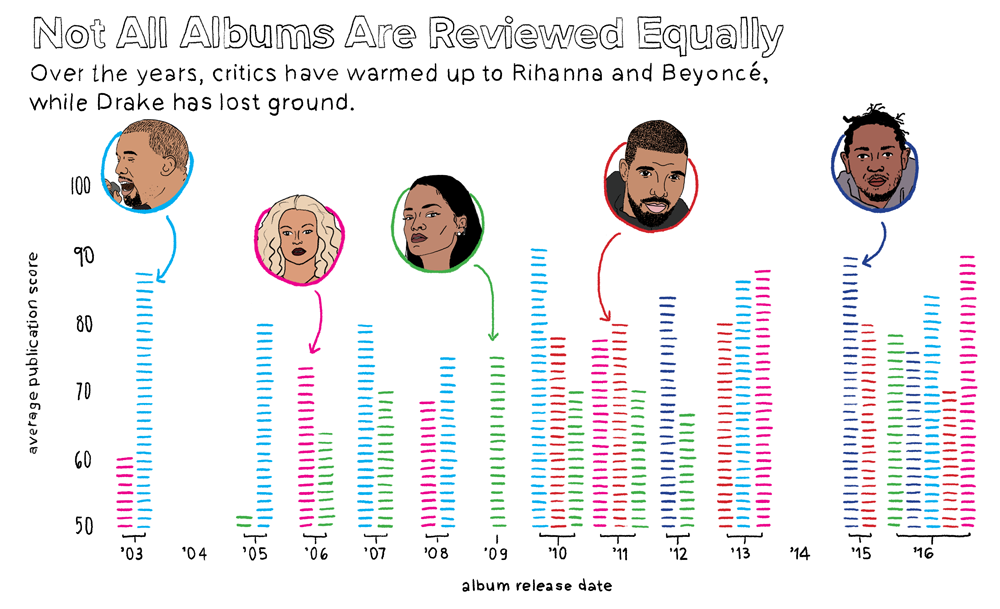 It's still only June, but an inarguable frontrunner for album-of-the-year contention is Beyonce's
Lemonade
. It also may end up being one of the year's most commercially successful, albeit not according to traditional metrics like album sales.
Like many albums these days,
Lemonade
took an unusual path to the listener. After the airing of the movie that inspired the album on HBO, the record was released exclusively on Tidal on April 23rd. The street date was unannounced, but it was not a complete surprise for the Beyhive. Beyonce released a lead-off single, "Formation," a few weeks before, and had even performed the track at the Superbowl.
What was surprising was the music itself. The album was "of a piece," as they say, and many of the mechanisms she used deftly recalled what, until recently, seemed like a bygone era. The accompanying movie called to mind The Beatles
Hard Day's Night
or Michael Jackson's
Moonwalker
, while the album's narrative thread, with its details of a romantic dissolution, resembled autobiographical, confessional works such as Marvin Gaye's
Here, My Dear
or Fleetwood Mac's
Rumors
. Politics also served as a thematic undercurrent. Tracks such as "Formation" and "Freedom" updated black nationalist rhetoric with themes of police brutality and female empowerment.
However, the album's production was perhaps the most startling element. As where her first few albums drew almost entirely from pop, hip-hop, and R&B,
Lemonade
was broader, more worldly, and included contributions from James Blake, The Weeknd, Kendrick Lamar, Diplo, Jack White, and MNEK, as well as samples or interpolations from Led Zeppelin, Yeah Yeah Yeahs, Animal Collective, and the great Puerto Rican psych band Kaleidoscope. All told, the album's 3,105 word liner notes listed 60 writers and 22 producers over the course of its 11 tracks. As a point of comparison, her 2003 debut,
B-Day
, included 32 writers and 11 producers over its 15 tracks. Of course, using a wide range of talent, spread over multiple genres, does not ensure success. In fact, it could've just as easily been a horrible mess (see:
Chinese Democracy
). But Beyonce was able to craft an album where the whole felt much greater than the sum of its parts. It was the latest pop release with novelistic ambitions, which was evidenced by the fact that there were only two singles, as where her previous five albums averaged four apiece.
But did this approach work? It's tricky to measure the commercial success of
Lemonade
; the goalposts have moved a bit. As where the main objective of previous releases was strictly album sales—the traditional approach—the primary business goal for
Lemonade
was to increase the number of subscribers to Tidal, which is owned by Bey's husband Jay-Z. According to Tidal,
Lemonade
brought in 1.2 million new subscribers to the service
. These numbers are tricky as they include free trailers, but Tidal has claimed that a whopping 70% of these users converted to the paying tier. This number seems inflated, but even it it were half that, it would mean the addition of 420,000 subscribers, with an Average Revenue Per User of $118 (check the math
here
). According to these calculations, Beyonce brought $49,560,0009 in additional value to the service. These are back-of-the-napkin numbers, and only a fraction of this will go into either Jay-Z or Beyonce's pockets, but they're impressive nevertheless.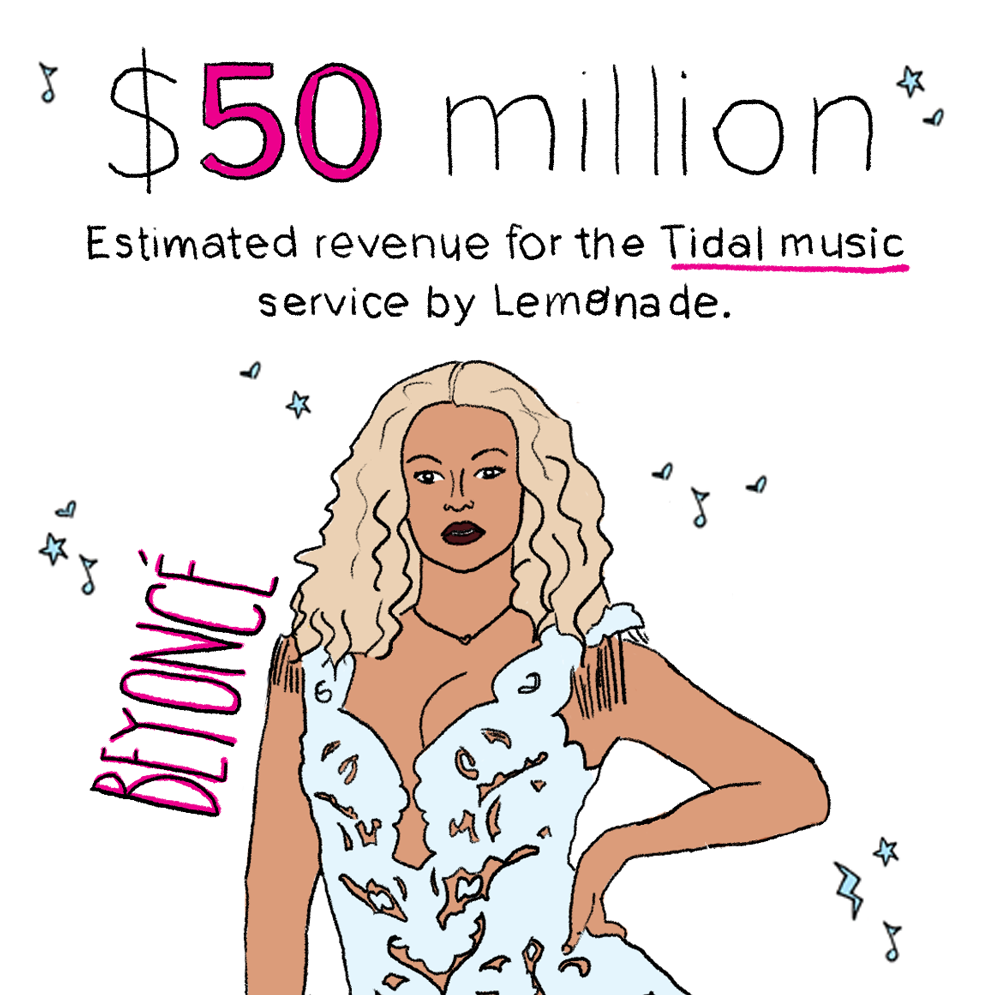 Meanwhile, the critical acclaim for that album has been clear and nearly universal. Among the 19 publications we surveyed, the album received a median score of 90, which is not only the highest score of any major pop release of this year, but also the highest of her career, registering at nearly 50% higher than the score of her debut, 2003's
Dangerously In Love
.
There are a lot of possible explanations for this: Music criticism has become more pop-oriented in the last 13 years, and it's also come to celebrate the themes of female empowerment that Beyonce so wholeheartedly embraces. But it's also hard to ignore the obvious: Beyonce released the most artistically ambitious and thematically cohesive work of her career. She not only did this because she's a dynamic, evolving artist, but because market forces allowed her to release this type of album and still remain commercially viable.
Beyonce wasn't the only one to figure this out. Rihanna, Drake, Kendrick Lamar, and Kanye also recently put out albums that defied expectations for what pop music is supposed to sound like. They're all very different artists, with different aesthetic goals and thematic palettes, but there are a few through-lines that echo with what we saw from Beyonce. Each of their recent albums have been wildly ambitious and shattered the idea of genre; they delve into deeper, more personal themes that evolve over the course of the album; and, most notably, each represents a holistic collection of work, rather than a smorgasbord of singles and potential singles (a configuration that largely dominated pop albums of the '00s).
Each of these four albums was also released via nontraditional means. It's hard to succinctly sum up Kanye's release strategy, or even to verify that there was a strategy, but it's accurate to say that the release date was in constant flux and that his album, like
Lemonade
, was also released exclusively to Tidal. Similarly, Drake's album was initially an Apple exclusive, and Kendrick Lamar and Rihanna's albums were both surprise releases. All of them also rejected the notion that singles are the primary driver for album sales. For these four artists historically, they averaged around three top-40 singles per album, as where, collectively, their four recent albums produced only five top 40 singles.
Rihanna scored the highest critical scores of her career with the prickly yet addictive
Anti.
Her median score of 78.5 represented an 18% increase from her previous album, and over a 50% increase from her debut. Similar to
Lemonade
, many critics noted that
Anti
represented a departure from the sounds and subjects of her previous work. It's charm, according to Entertainment Weekly, resided in its
ability to eschew the "soaring, Grey-Goose-and-glowstick anthems that constitute her career's foundation."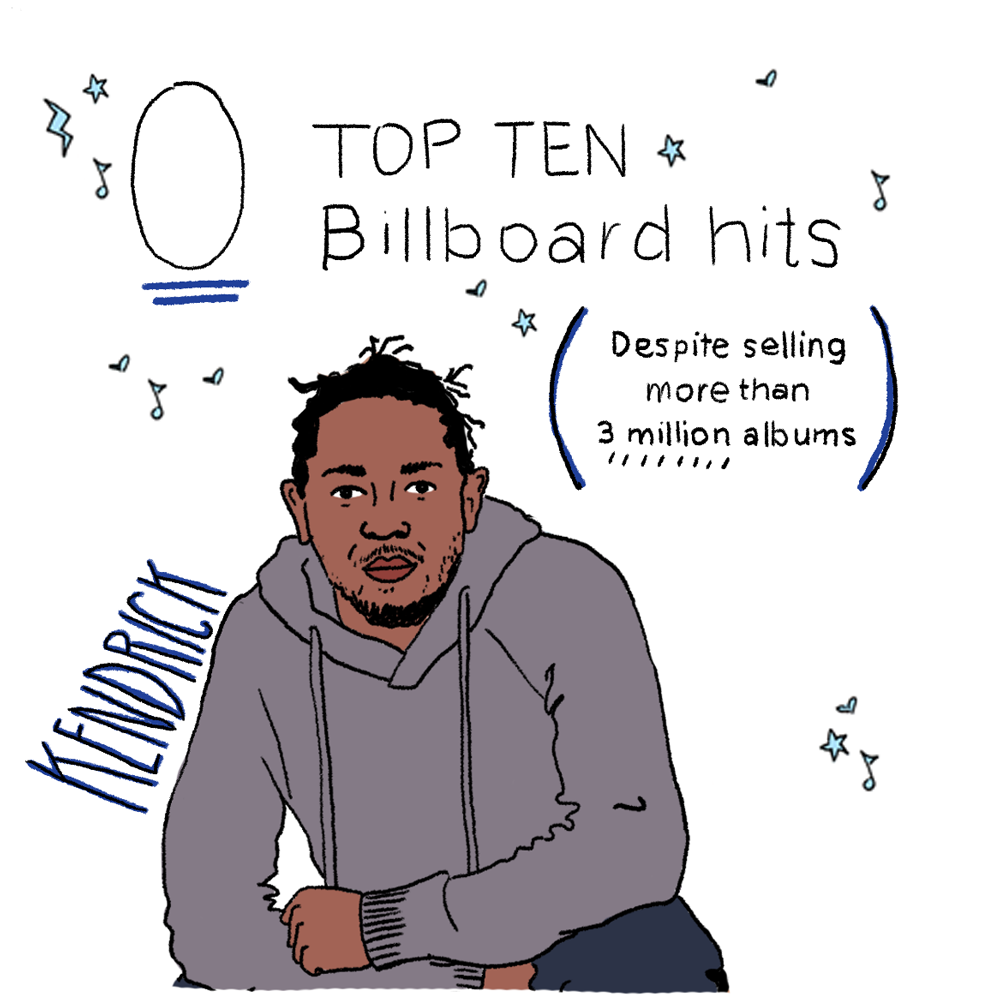 Similarly, both of Kendrick Lamar's most recent albums, 2015
To Pimp A Butterfly
and this year's
Untitlted.Unmastered
received exceptionally high marks (90 and 84.13, respectively), and where both met with broad commercial success without a hit song. Kendrick is an interesting example as perhaps no other mainstream album of the past 15 years feels as cohesive, complicated and ultimately satisfying as the surprise-release
To Pimp a Butterfly
, but, unlike Rihanna, Beyonce, or Kanye, this wasn't a release by a seasoned vet who had earned the commercial success to experiment. His previous major label effort, 2013's
good kid, m.a.a.d. city
,
was also a wildly ambitious, conceptually experimental album. Kendrick came of age in the era of the surprise release and has perhaps internalized these new rules.
Drake, however, received more mixed reviews for his latest album
Views
. With a median score of 70, it was the poorest showing of his career. On the surface, that album was also very ambitious. With a rich, sonic palette that swung between lush strings and the more skeletal ambience of alternative R&B, it largely rejected the notion of genre, while its lyrics painted a portrait of romantic desolation amidst material excess. But these were themes that Drake had been mining for quite some time, and the backlash was not a result of critics rejecting Drake's ambition, but rather a rejection of him slavishly revisiting the same themes on release after release. Sequels in pop music are acceptable and even cool (
The Carter III
was one of the best albums of its generation), but our Canadian lothario can't continue to blow up his own Death Star at the end of every album and get critical daps.
This re-emphasis on the album format may be a temporary aberration — certainly the single format isn't going anywhere, nor should it; pop music has always been about songs, and it will continue to be so. Still, success begets success, and albums such as Lemonade and Anti have broadened the possibilities of the genre. Artists, if the chose, now have a larger canvas to work on, and more room to explore their creative visions. For artists such as Beyonce or Kanye, this is a liberating. And, for fans of these artists, it will result in richer listening experience.