With the telecast under way, here's there very final prediction of the major prizes.
Album of the Year, Record of the Year, Song of the Year, and Best New Artist. These are the categories, the thinking goes, dominated by the most popular of music. In 2017, no one is more popular than Adele in terms of real sales. In less than a calendar year, her album 25 was certified diamond. Grammy voters skew older and when all else fails, history shows us that they will vote for the popular, recognizable choice. That's Adele.
Who Should Win:
Beyoncé,
Lemonade
Lemonade
is a towering achievement, the work of an artist operating at the height of her powers with seemingly unlimited means and a brave, unyielding heart. This is art, not just a collection of songs. An album in the most ostentatious sense. I haven given horrible, ugly looks at people
who fail to recognize its precision and power. Pray you catch my drift. The Recording Academy likely won't.
Dark Horse:
Sturgill Simpson,
A Sailor's Guide to Earth
It's the Steely Dan rule, which states that when the world is tipping toward chaos the white men will inherit the earth. (
Two Against Nature
won less than a month after Bush II's inauguration; ironically, this kind of American idiocy has historically fueled much of the Dan's best songs.) True, awarding Album of the Year to
Two Against Nature
was fan service for Dan devotees (of which I am one), an act of nostalgia. Sturgill Simpson is a poignant and surprising lyricist, a critic's choice in his genre, country. He has a mustache. He plays the guitar. He writes his own songs. All the markers of quality and achievement in the most traditional sense, even as his music experiments with song structure and defies generic convention in sound and lyrical content. Remember Beck?
Record of the Year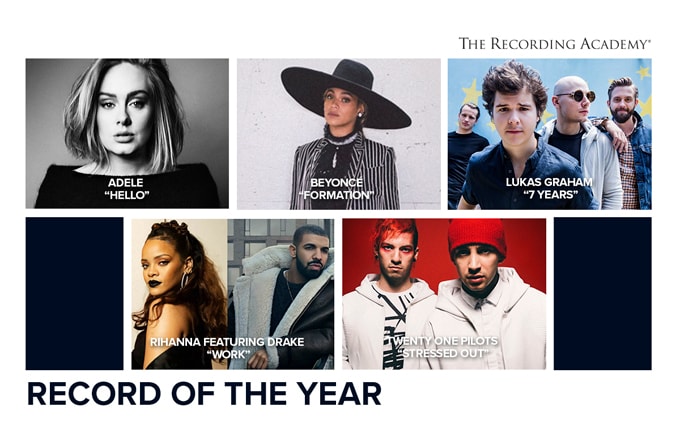 Who Will Win:
Adele, "Hello"
In the same way that, say,
The King's Speech
was Oscar-bait, Adele made great Grammy-bait with
25
, and no song on that album was better than
"Hello."
It's a grand piece of music, immediate and unforgettable from the first time you hear it, and a virtuosic vocal performance that is absolutely the kind of thing that Grammy panels adore. Oh, and did we mention that Adele sold a lot of albums? Adele sold a lot of albums, and "Hello" was the tip of her spear.
Who Should Win:
Beyoncé, "Formation"
​Adele may have this one in the bag for a host of pretty good reasons, but the fact of the matter is Beyoncé had the best song of the year.
"Formation" is a tour de force
, and if all was right in the world (it's not), this would win Record of the Year (it won't).
Dark Horse:
Lukas Graham, "7 Years"
You never know, right? When it comes to the Grammys, dark horses, contrary to their name, are usually white men.